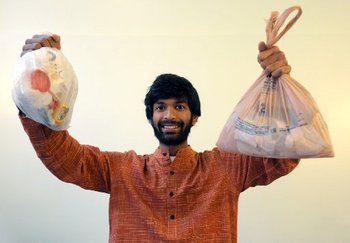 The WMEAC Film Series concluded last week, Wednesday, with a screening of the award winning documentary, No Impact Man at the Wealthy Street Theatre. The film follows Colin Beavan and his family — a wife, a daughter and a dog — as they attempt to live an entire year without having a net impact on the environment. After the film, viewers participated in a question and answer forum with a real-life "No Impact Man" living in Ann Arbor, Michigan.
Since March 29, 2010 Darshan Karwat, a PhD candidate at the University of Michigan studying Aerospace Engineering, has produced just seven pounds of trash. And that includes recyclables, too. He spoke to film-goers about why he's chosen to lead a trash-free lifestyle and how it has affected his life.
Karwat, who was involved with environmental groups on the University of Michigan campus as an undergraduate, explained that it wasn't that hard to adjust to his new lifestyle.
"I was already not producing a lot of waste and I shop at second-hand stores. The hardest part of this experience has been trying to talk about it with other people," he said.
Each small piece of trash he has produced of over the past two years has a story. Trash is not just material; it's a philosophical metaphor about modern society.  For Karwat, living waste-free is his own personal way of advocating for a large-scale cultural change in how people understand their relationship to the environment.
"Trash is a social concept. What we consume says so much about who we are and what we value." he said.
To learn more about Darshan Karwat visit his blog at minimizingentropy.blogspot.com.
https://wmeac.org/wp-content/uploads/2014/09/WMEACLogo.png
0
0
WMEAC
https://wmeac.org/wp-content/uploads/2014/09/WMEACLogo.png
WMEAC
2012-05-14 20:07:24
2012-05-14 20:07:24
Real-Life "No Impact Man" Speaks at Wealthy Street Theatre